Building a complete city in China
The Netherlands and China are incomparable on many levels and in many respects, comparison is undesirable. But if we look at the purposefulness of urban design and development in China, we see various features that can inspire Dutch practices. After all, our country faces major spatial challenges in the years to come. We need to realize 1 million new dwellings in ten years.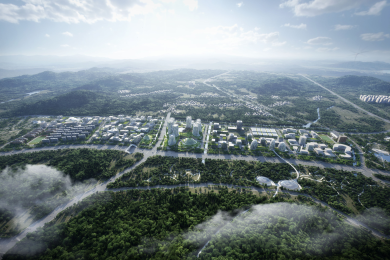 A new district for the digital economy
At the end of 2020, INBO and cooperation partner Shanghai Design Center (SDC) won an international competition with a master plan to develop a 2.34-km2 new district for digital economy and artificial intelligence in Suzhou, China.
The aim of the design is to realize a world-class innovation hub for the digital economy. This area development is the size of an entire city district, with 50,000 to 100,000 inhabitants and employees. Everything is in place: you can live here, work here and there are amenities. The green public space is primarily aimed at facilitating informal meetings and knowledge exchange, the basis of an open innovation platform.
Projects in China are always mixed-use and incorporate a wide variety of functions. In addition to work buildings and amenities, they also provide a variety of dwellings for the various workers. An unusual element is in this context is the so-called 'talent housing', which ensures that young researchers can always be provided with an affordable local dwelling.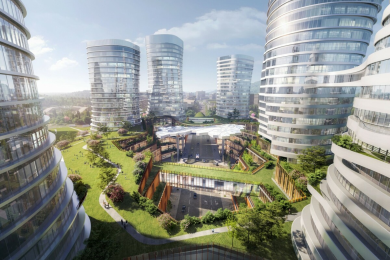 The campus as an innovation instrument
The Chinese government uses the campus approach as an instrument in the development of high-tech, AI, software and new media. This means urban development anticipates intended economic development. Housing, amenities and recreation are woven around and through this.
In China, it's possible to realize plans like the one for Suzhou at relatively short notice. It helps that in China, all of the land belongs to the government and is 'leased' by companies and citizens. It is relatively easy to compensate or buy out current users. This situation is incomparable to the situation in the Netherlands. Despite these big differences, it is nevertheless inspiring to see how ambitions can be realized if one looks beyond four-year policy periods and designs cities with a clear goal in mind.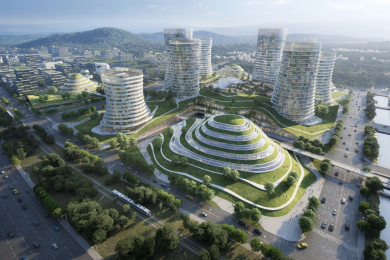 Local culture as a starting point
As urban designers, we look at local identity and culture and at the local landscape and subsequently integrate these into our designs, combining them with high density and an abundant functional mix.
We enrich the functional urban grid with eco-campus accents such as small-scale pavilions and footpaths. The heart of the plan comprises a striking landmark embodied by a green hill that combines activity with nature in reference to the surrounding landscape. In addition, we're also developing a number of distinctive and functionally diverse neighbourhoods on the site, providing a strong and future-proof area.
The new Suzhou district is an inspiration to INBO's designers. The early focus on infrastructure, the clarity of the economic direction chosen and the integration of local culture and landscape result in a high-density innovation hub with a good balance of living, working and amenities.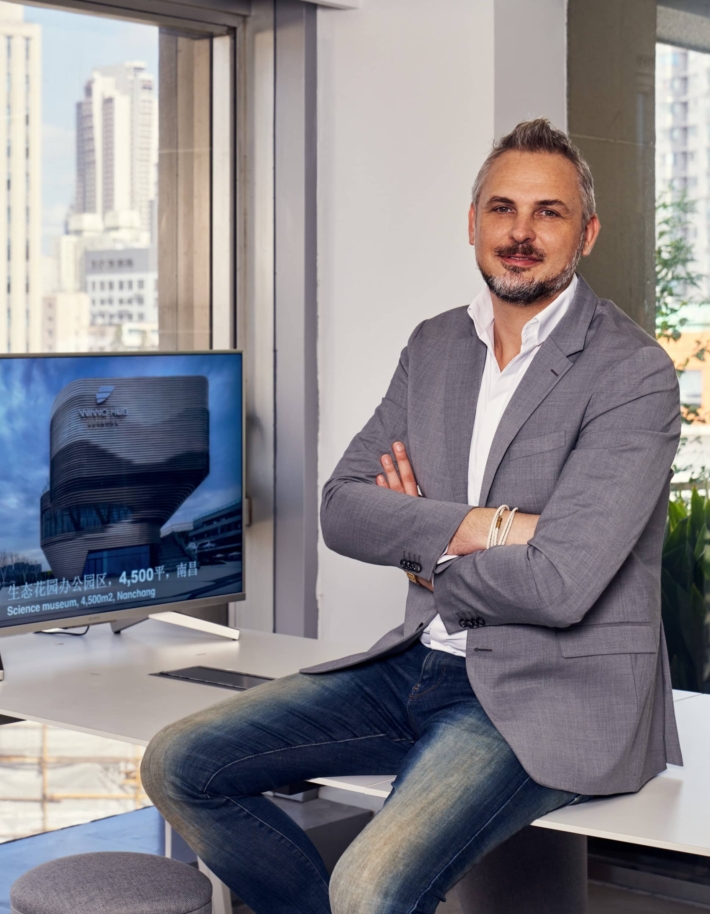 'We consider the environment, connect to the surrounding landscape and look for anchor points in local culture. In China, this is a distinctive approach.'
Mark Dekker
architect – partner