Hybrid working post-covid-19: focused or festive?
It's impossible to image life today without hybrid working – on-the-go consults, meetings with a team with half of its members working from home, back to all-day focused work in the office, or just weekly joint meet-ups? Post-Covid-19, companies are taking stock of their accommodations. This is causing a surge in demand for flexible working spaces. Trade association BNA asked Rodi van der Horst, architect-interior architect-partner at INBO, about the trends he sees in the field of post-Covid-19 hybrid working.
This article originally appeared on the BNA website.
Architect as director
To identify the needs of companies, Rodi's team works like a director. The interior team organizes talks and workshops with employees in which it peels off all layers of the organization. Rodi: 'The better we understand each other, the better our designed response will be. For us this is not new; for many companies it is. Together, we can arrive at a future-proof solution.'
Rodi's team has extensive city hall experience. The way he handles this type of commission is successful because he knows that in terms of both personal wishes and formal requirements, various domains need to be addressed. These not only involve those who work in the field and only come into the office to perform administrative tasks, but also hospitality staff working at the public entrance and ICT service point workers.
The team produces so-called building blocks for all of these domains. The building blocks function independently and as a whole. Phone booths or focus areas can be building blocks, and so can small or larger workspace clusters or flexibly deployable lunch areas. Together, they form a workspace for both individuals and the company as a whole.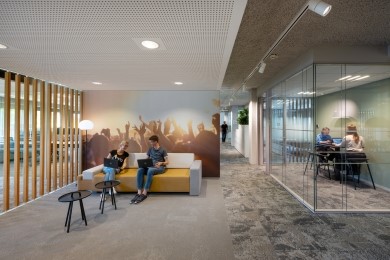 Hybrid working is more than meeting on Teams
Properly functioning technology is an essential part of these building blocks. This involves more than Teams facilities. People need to be able to switch smoothly between laptop and phone, colleagues and external meeting members, both in meeting spaces and at home. In this respect, it's essential that the interventions are user-friendly and not cumbersome.
This is also important in privacy-sensitive work spaces or, for example, in large council chambers in which image and sound are recorded for the benefit of those both online and offline. In the Dronten Town Hall, we therefore linked the ICT infrastructure directly to the building blocks for optimal integration.
Rodi: 'The building and the ICT are important pillars in our way of working, but people, their mental health and ease of work always come first. Therefore, working together to concretize the question is crucial to the success of a new working environment.'
A quiet workspace or a cosy club
The spatial shift from very open workspaces to focus areas and phone booths had been going on for some time. The application of technology made such changes more accessible. The shift was clearly visible in the redesign of the office of installation company DWA in Gouda. This client asked us to reduce the size of the office garden.
In the result, you can meander across the floors. Open and closed work spaces are next to and opposite each other, with doors at strategic places to prevent inconveniences. The stairs access two floors in the centre of the building, with wings on either side. One is for working in peace, the other maximizes opportunities to meet and be social.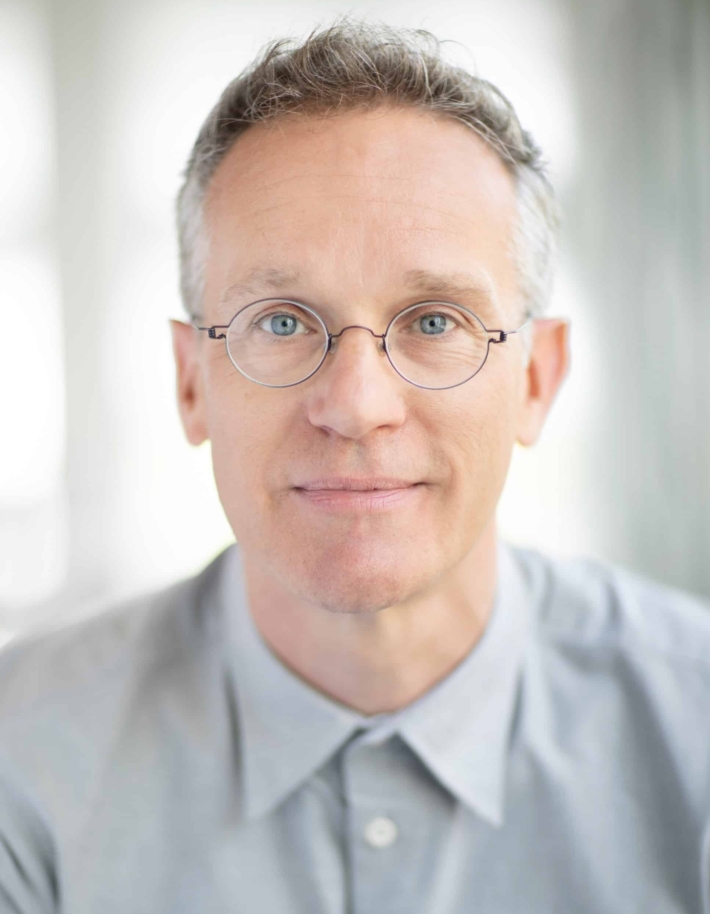 'Hybrid working involves looking closely at the individual needs of employees. More than ever before, this is a subject of conversation. This means hybrid working solutions are not one-size-fits-all.'
Rodi van der Horst
architect/interior architect-partner