Start construction Howest campus in Bruges
Construction of the new Howest Campus near the Bruges railway station has begun. Building a sustainable, inspiring and vibrant education campus next to the current campus will take two years. Once completed, the new landmark and the existing building complex will form an integrated campus. As of the academic year 2024-2025, more than 5,000 students will be living here.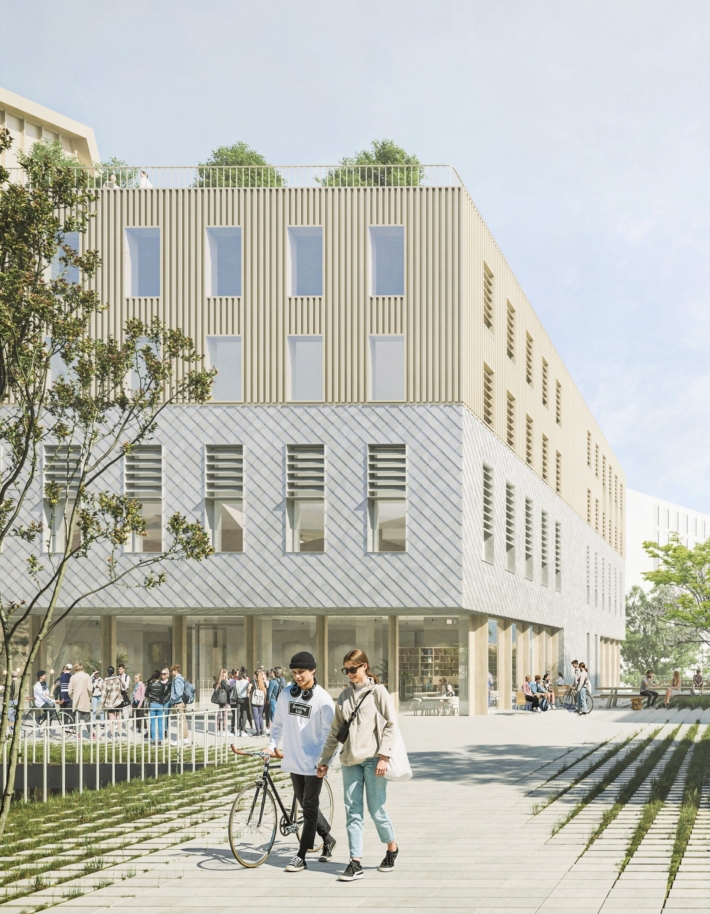 A team including MBG, evr-architects, INBO, Arcadis and Omgeving is developing the Howest Campus Bruges Station as a 'Living Campus': a healthy and inspiring environment for students to not only learn, but also find out what makes them tick and bring out the best in themselves. The design is stimulating, multicoloured and it responds to the needs and expectations that were formulated at different levels.
The design interweaves the characteristics of the existing buildings and their surroundings with the new additions. The existing buildings are reduced to their essence, to flexible and adaptive structures that facilitate different types of use. In addition to the existing buildings, the two new buildings will match the current Howest Campus in terms of colour and material, but give it an expressive new look at the same time. They sit in the landscape like modern, contemporary pavilions and, with their distinctive appearance, express the importance Howest Campus attaches to innovation and sustainability.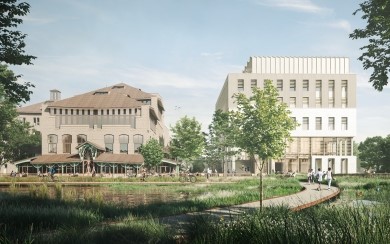 The buildings are interconnected on the ground and first floors. The bases of the existing and new buildings house the most dynamic functions, which together will form the beating heart of the campus. Buildings and landscape are connected by a succession of informal places in which students can meet.
The project is highly committed to the closing of cycles. On-campus power generation is sustainable through the use of geothermal and solar energy. In addition, rainwater will be reused and a grey water treatment system that significantly reduces wastewater discharge installed. Finally, the project is also highly committed to a sustainable use of materials, in particular the use of timber frame construction for the façades and the use of so-called 'pretty plastic', slates made from recycled plastic waste.
Credits
Location
Bruges
Client
Howest
Surface area
32,000 m2 (18,000 new construction / 14,000 transformation)
Collaboration
MBG, evr-architecten, INBO, Arcadis and Omgeving
INBO
Ferry Smolders, Pieter Keijzer
Building physics
Bureau De Fonseca