INBO is working with great enthusiasm on the design of the Hyde Park megaproject on the outskirts of Hoofddorp. This new residential area, consisting of approximately 4,000 dwellings and located close to public transport hubs, will create space for living and working in the Amsterdam metropolitan region.
INBO is designing the Mayfair Block, comprising eight future-proof buildings with a focus on inclusivity, identity and social cohesion.
What does it mean to 'come home'? This is different for everyone. INBO based its design, entitled The Secrets of Mayfair, on the individuality and identity of the future residents, translated into architecture. We considered not only volume, materials and a variety of layouts, but also the transition from outside to inside through the lobby. As a result, each entrance constitutes a signature that reflects the residents.
Think about it. What do you like to 'come home' to? A large piece of light art? An eye-catching staircase that doubles as a seating area where you can meet your neighbours and that might even entice you to ignore the lift? An entrance hall with workspaces and fresh coffee where you can work while doing your laundry in the wall of washing machines you share with other residents? Or would you prefer an entrance hall with a wall of books, where you can swap books with your neighbours in your own library?
Whichever you choose, each lobby also connects the street to the communal garden. The Eden is the final and central Secret of the Mayfair project. The garden contains a glass greenhouse that represents growth and encounter. It is a place for communal barbecues and birthday parties, as well as for storing garden tools and seeds for the vegetable garden.
INBO's vision is to transform an empty site on the outskirts of Hoofddorp into a social and healthy neighbourhood, a place where people, city and nature meet, a place where people can feel at home and live together with their neighbours: a place for people.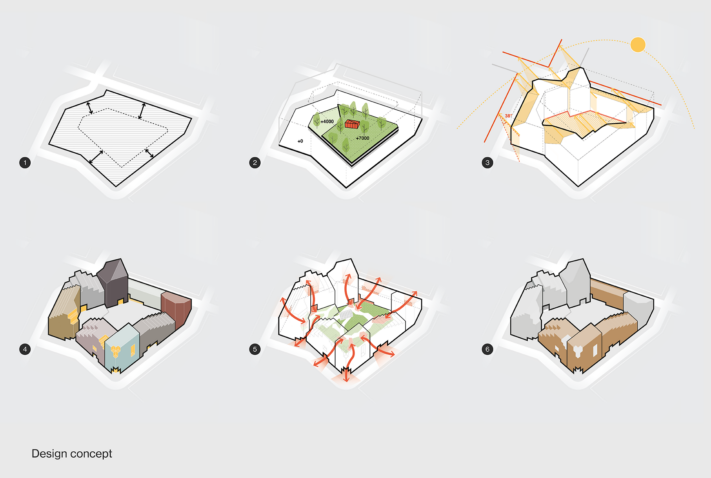 Exceptional Mayfair plot in the heart of Hyde Park
Hidden parking garage beneath raised courtyard garden 'The Eden'
'Suncuts': cut-outs in the volume bring sunshine onto the street and into the courtyard garden
Divided into eight unique Hoofddorp houses
'The Secrets of Mayfair' connection; courtyard garden, street and coming home
Timber construction; 'wood where possible, concrete where necessary'
Credits
Client
BPD en Snippe projecten
Collaboration
MVRDV, DELVA Landscape, Adviesbureau Lüning, Arup, Ingenieursburo Linssen
Role INBO
Architectuur, bouwkosten, bouwadvies
Team INBO
Rik Bakker, Richard Blees, Igor Sokolov, Skye Meyer, Boris Cribio, Robin Beers, Jaco Troost, Mustafa Senturk, Mark Kanters, Samantha Scheenaard, Jeffrey Kuiper
Completion
2026