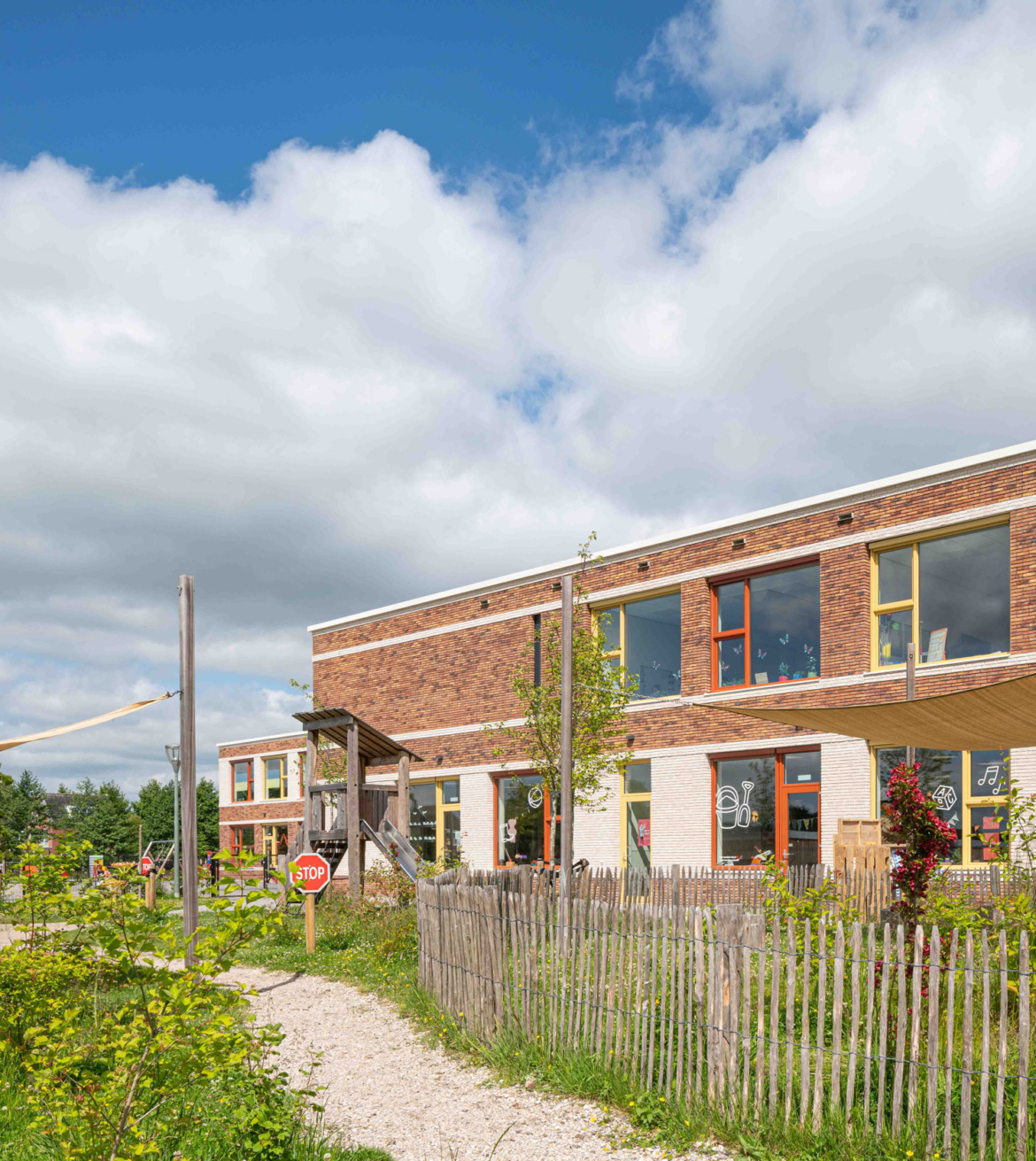 A community school like a country estate
Community School De Violier in Leek is in a residential district that has a strong relationship with the surrounding landscape.
The country estates in the area inspired us to design the new school building like an estate, with an enclosed, secure garden for a playground.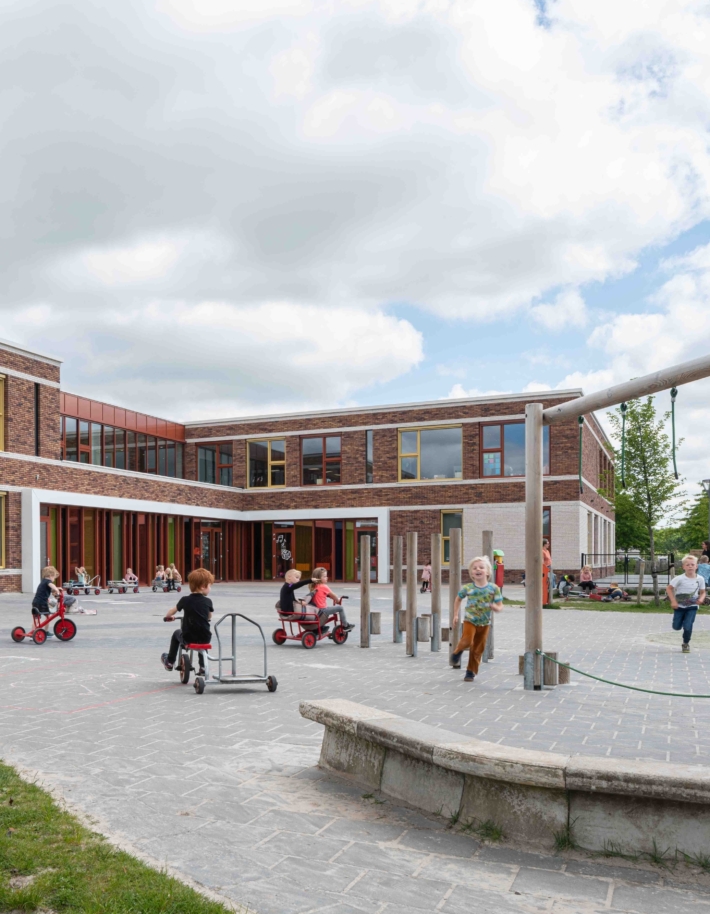 We created a sustainable building with a well-insulated façade, over 300 solar panels and heat pumps. Temperature, fresh air and lighting can be controlled on a classroom-by-classroom basis. The materials for the façade were sourced locally.
The façade is made from robust, local and recognizable materials. The use of transparent and coloured elements creates a relationship with the environment.
The gym has a large window and shines like a beacon in the evening.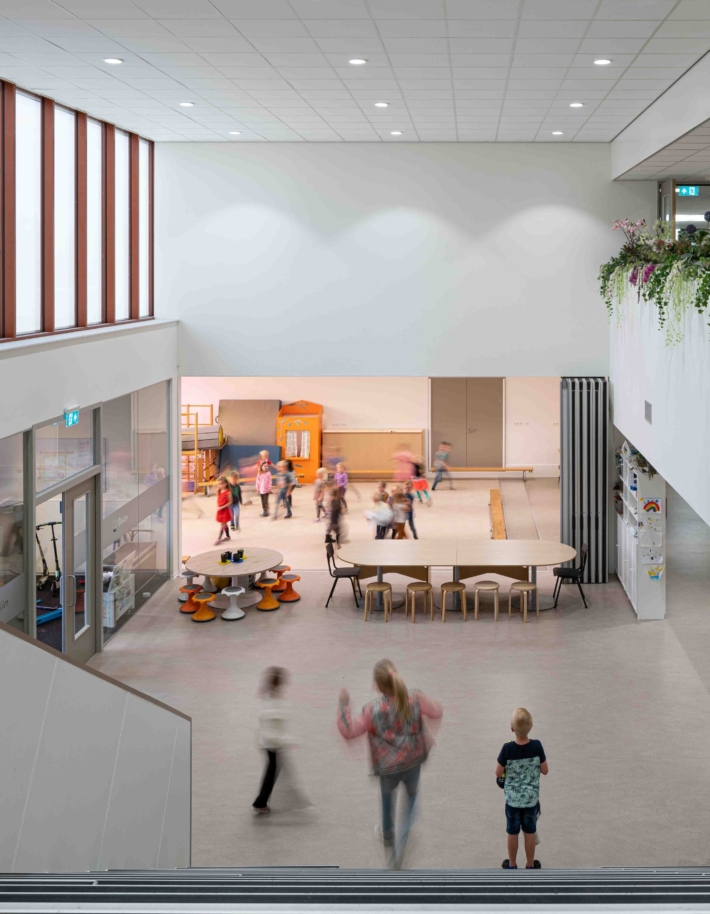 The complex houses two primary schools, the SKSG day care, a playgroup, before- and afterschool childcare, and a gym.
The assembly hall extends upstairs via a wide podium staircase. The playroom can be connected to the assembly hall for large gatherings.
The layout of the space has been designed to allow certain areas to be closed off so that the building can be used by third parties outside of school hours. The gym is both accessible from the inside and has a separate entrance and can therefore also be used by local (sports) clubs.
Sustainability and comfort
For a healthy indoor climate, the school is well ventilated, using clean outdoor air wherever possible. The windows can be opened. If they are closed and the classroom is in use, the ventilation system automatically detects this through CO2 sensors and starts ventilating.
We used large, tall windows to bring plenty of daylight deep into the building. If it gets too hot, the outdoor sun screens close automatically. The energy-efficient LED lighting can be controlled either automatically or manually.
We insulated the building 25 per cent better than required by the building code. We chose triple glazing and a thick insulation package for the façades and the roof. High-efficiency heat pumps provide heating. The building uses no gas and emits no on-site CO2. On completion in 2020, the school already met the 2021 BENG standard.
The design anticipated future expansion. This will be realized in 2023.
Credits
Client
Municipality of Westerveld
Collaboration
BAM Bouw en Techniek Groningen, W2N Engineers, Erik Overdiep
Role INBO
Architecture, interior design, construction costs, construction consultancy
INBO team
Trude de Vroomen, Hugo Jong, Fokke de Vries, Manuela Lung, Hains Bosma, Lieke Wiegersma
Photography
Egbert de Boer
Completion
2020; extension 2023