After 15 years of disuse, Rijswijk's former city hall was given a new function as Huis van de Stad ('House of the City': community centre). The monumental building accommodates the municipal administration, welfare services and a music school, a library and catering outlets. INBO transformed the courtyard garden into a light and open atrium that connects all of these activities.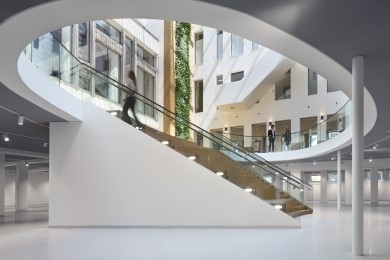 The municipality of Rijswijk aims to be in close proximity to and easily accessible for residents, which is why the new atrium is a transparent and open meeting space. In it, the existing qualities of the building, as found in its hall, corridors and staircases, look their best.
The stone façades were restored, cleaned, insulated and fitted with new, slim window frames. All installations have been replaced and there are solar panels on the roof. After the renovation, the Huis van de Stad is a 'Bijna Energie Neutraal Gebouw' (BENG, almost energy-neutral building). INBO followed the working method 'Duurzame Kans Bestaand Vastgoed' (sustainable opportunity for existing real estate) to achieve maximum sustainability within the budgetary constraints.
The cultural institutions, welfare and catering outlets are the first users. The municipal administration will move in later.

Municipality of Rijswijk
Trias
Library
Communal area