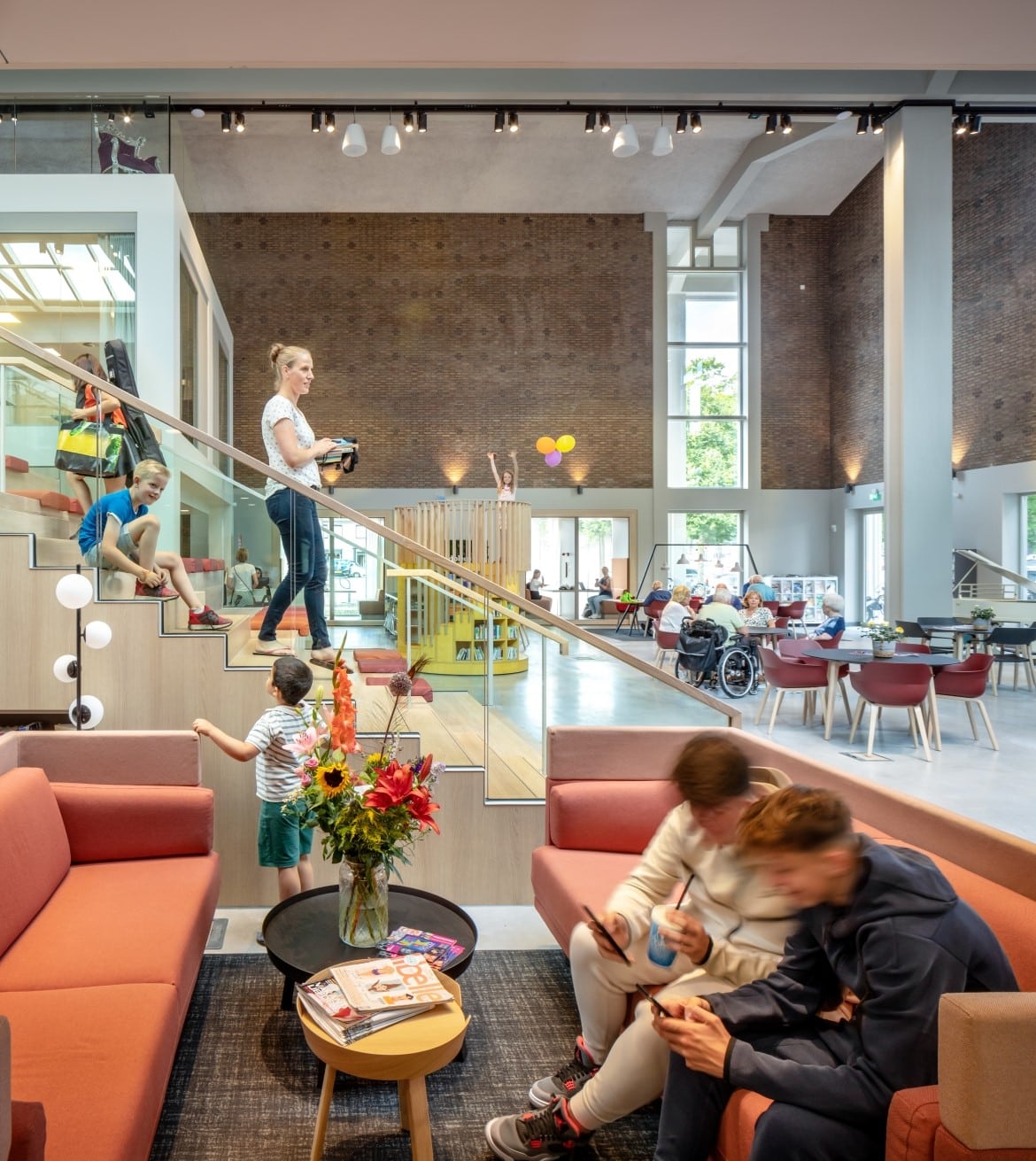 From church to village hall
The residents and the local council of Son en Breugel chose our design for the transformation of a former church into a cultural village hall. The design unites different functions under one roof.
We broke open the introverted church building for the benefit of the village community. The transparent base makes the theatre and library visible from the outside. We created a skylight in the roof and now plenty of daylight flows into the spacious foyer.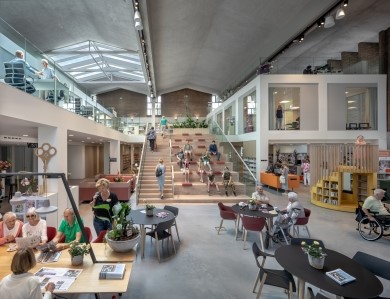 From closed to open
The 1960s church building had many special elements we wanted to preserve, so that became one of the starting points for the design. The problem was that the building was very closed and dark. To transform it into an open and accessible village hall, we opened up the façade on the ground floor as much as possible. From the outside, anyone can look inside and see what is happening. This makes it less intimidating to actually step inside.
We preserved the vertical windows on the side of the building. They ensure a beautiful, theatrical light incidence.
On the ground floor, the library, the theatre hall, a bar and a foyer bring a lot of liveliness. There is room on the stairs for children to sit and read. Upstairs it is quieter, so that is where the work spaces, consultation areas and the brass band's practice rooms are located.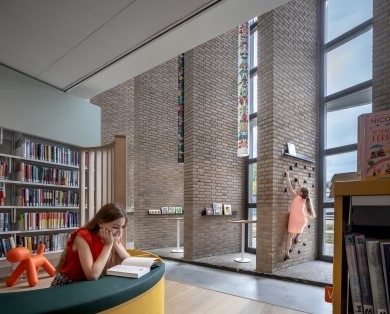 Recycling of materials
To make the village hall energy-neutral, we made sure to recycle existing elements and materials. We collect and use rainwater.
We also wanted to preserve church attributes such as the baptismal font, the holy water basins and the confessional boxes; we moved them to new locations.
The layout of the space is easily adaptable to different types of use. The village hall guarantees value for the future. And the residents of Son and Breugel are proud of that.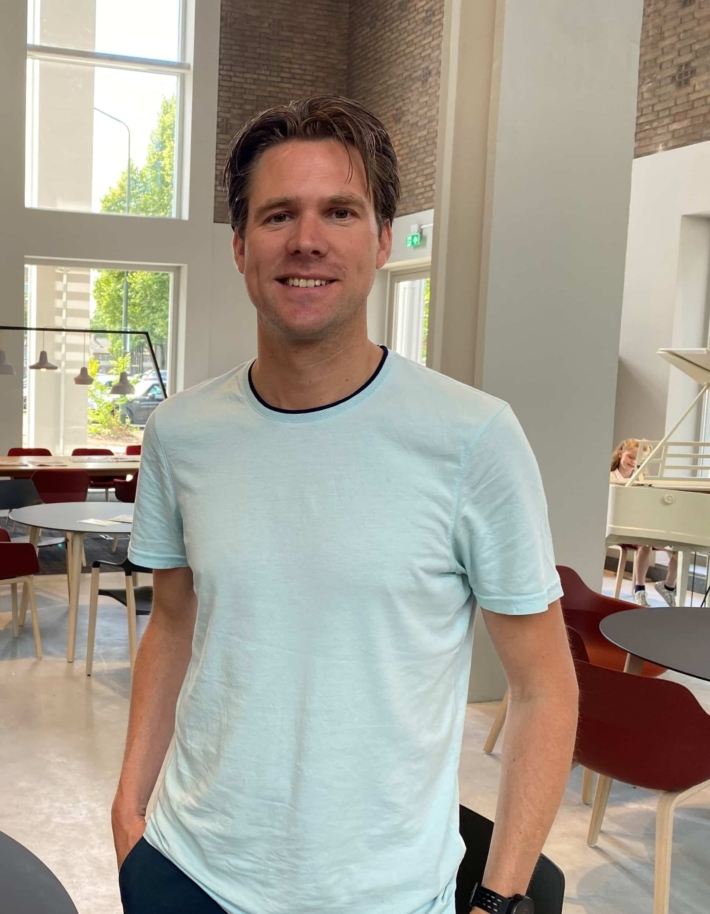 'The best thing about the building is the huge span of the concrete shell roof elements. We got them for free. We used this open structure as best we could.'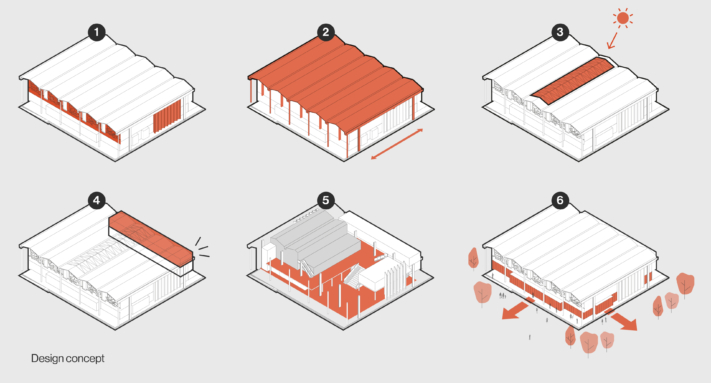 Patterned artwork in brick facade & vertical windows
Large-span, open structure with a unique concrete shell roof
Roof opening brings light into the heart of the building
A second storey on top of the extension volume
Large open space with flexible floor modules
Ground floor opens out towards the surroundings and creates a new living room for Son & Breugel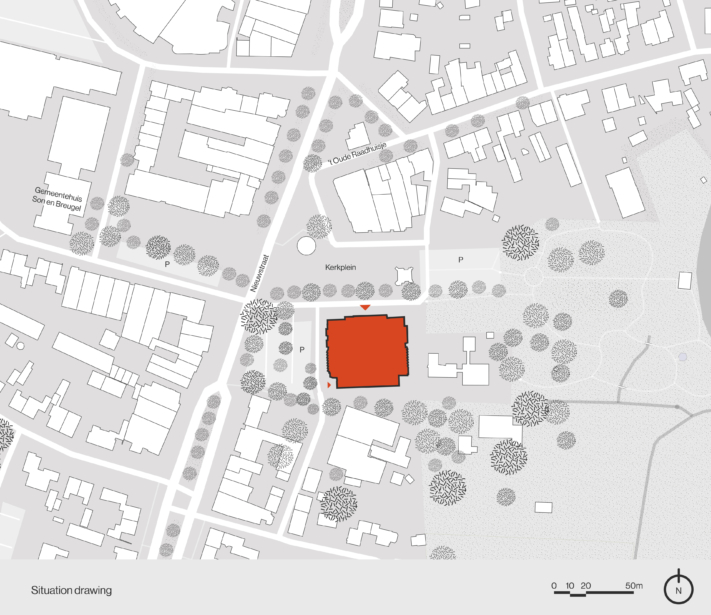 Metselwerk relief kunstwerk & verticale raampartijen
Open structuur met grote overspanning & bijzondere betonnen schaaldak
Daklicht brengt licht in het hart van het gebouw
Een tweede bouwlaag op de aanbouw
Grote open ruimte met 1 zaalvolume en flexibel indeelbare vloervelden
Begane grond opent zich naar omgeving en een nieuwe huiskamer creëren voor Son & Breugel Lobby
Counter and bar
Wardrobe
Library
Big room
Multifunctional room / small room
Work stations
Flexible rooms
Open work places