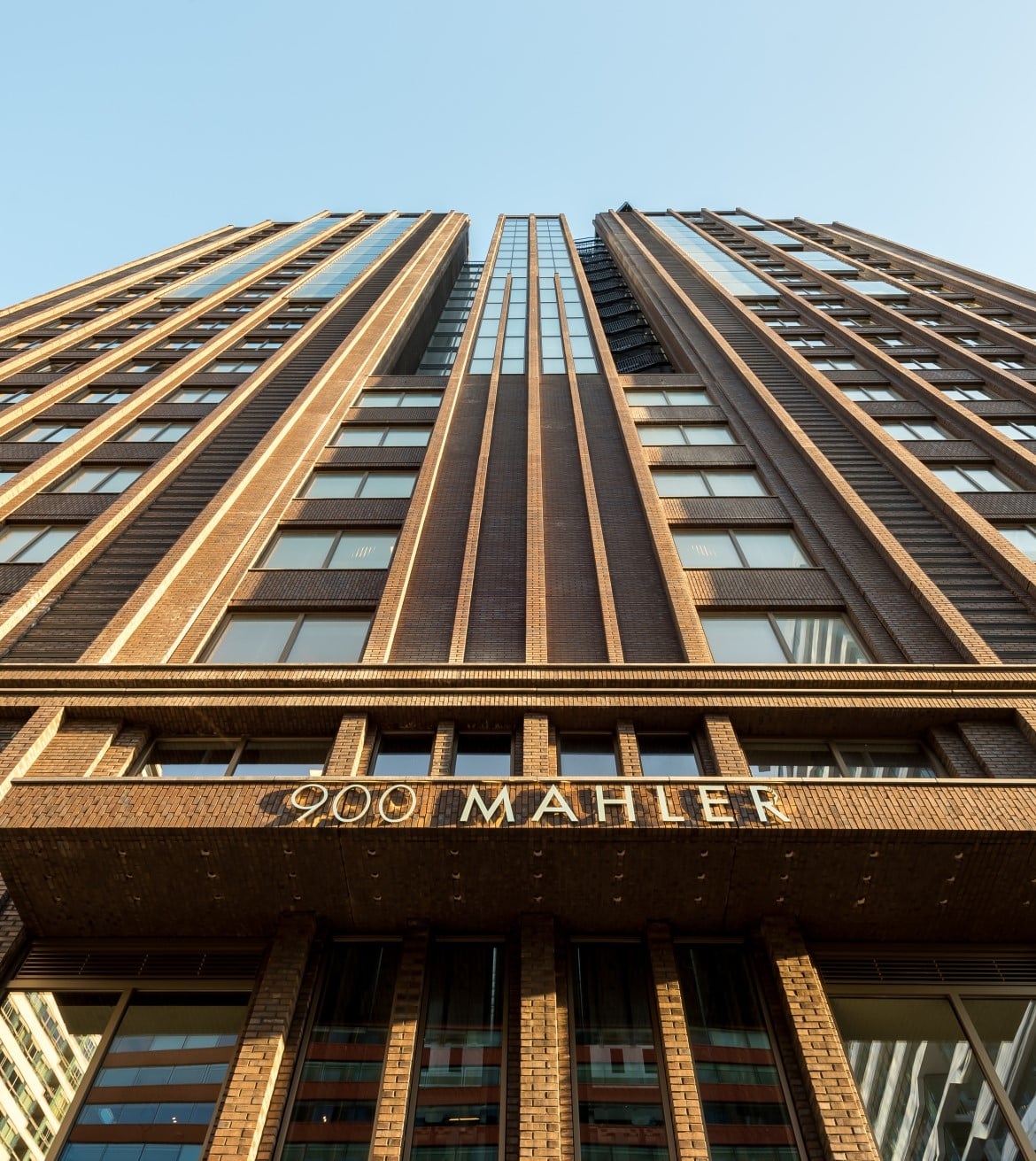 Manhattan in the Zuidas District
For G&S Vastgoed, we designed a robust residential tower with large terraces in the Zuidas district in Amsterdam. The future residents wanted a building with a chic, urban feel. We achieved this by including a triple-height entrance hall with fireplace and seven-metre-high shop fronts.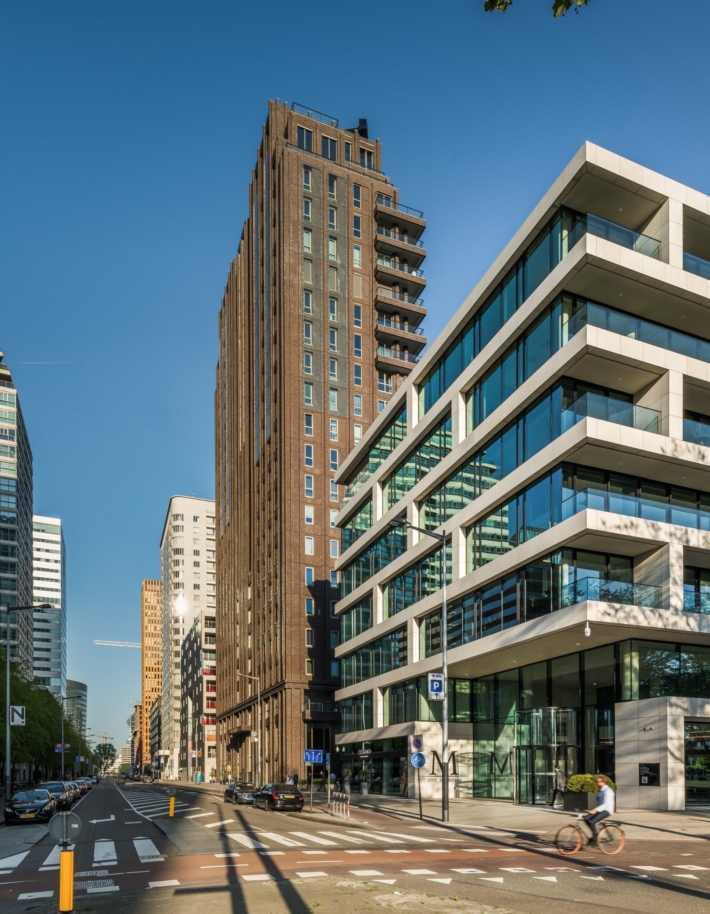 We took our inspiration from the New York architecture of the first half of the twentieth century. Manhattan's chic residential buildings have a clear structure, including a publicly accessible base on the street and a crown at the top. Their brick façades are carefully composed and richly detailed.
We translated these elements and values into a contemporary design for the Amsterdam Zuidas district. We gave 900 Mahler a clear layout. Comprising entrances, commercial functions and access to the parking garage, its base covers the entire plot.
127

dwellings

22

floors

1100

commercial base

2

glass lifts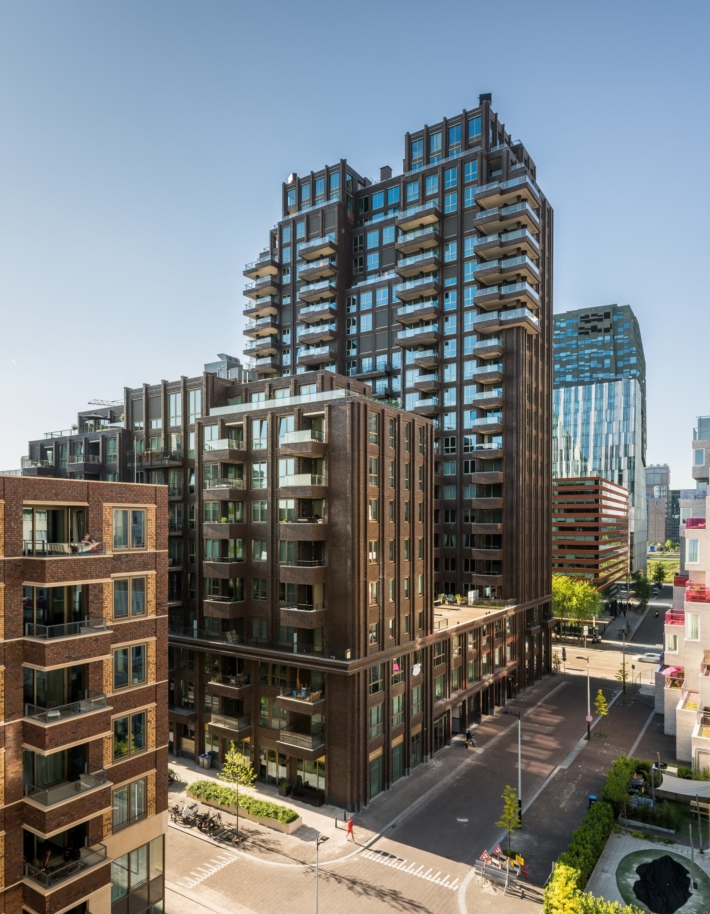 The residents in the two towers above optimally benefit from sunlight and views. The scale and size of the two towers match the streets on which they are located: a higher tower on metropolitan Gustav Mahler Avenue and a lower tower on quieter George Gershwin Avenue.
The combination of deep brown brick, bronze-coloured window frames and vertical piers gives the residential building an iconic appearance. Almost all of the masonry was prefabricated.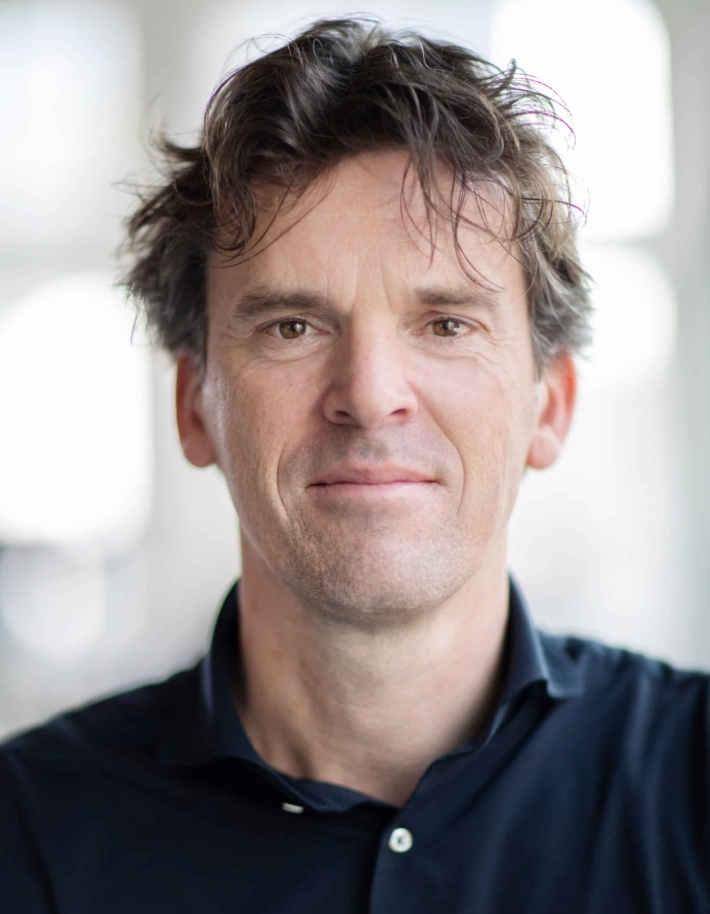 'The masonry on the façades is the main carrier of the concept behind the residential tower. It gives 900 Mahler its metropolitan appearance and also gives the building its sustainable and timeless character.'
Rik Bakker
architect – partner
Credits
Client
G&S Vastgoed
Collaboration
Boele & Van Eesteren (contractor), Wichers en Dreef (installation consultancy), Van der Vorm (structural design)
INBO
Rik Bakker, Tako Postma, Piet van der Ploeg, Wilco van Gils, Kees Brons, Evert Wassink, Martijn van den Hoek, Jan van Bentum, Rien Wolfswinkel, Ben Kneppers
Photography
Jan de Vries
Completion
2016