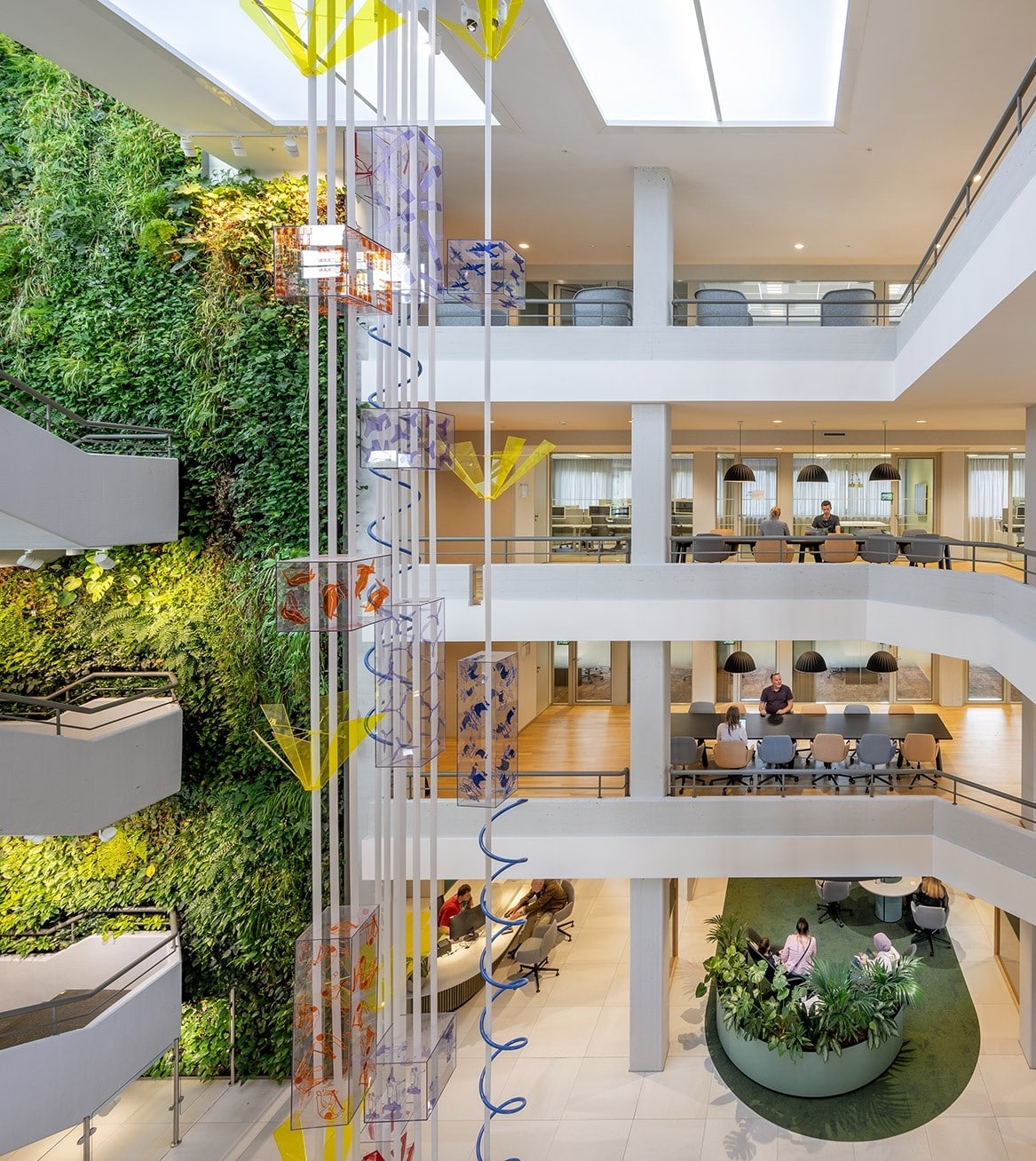 Hospitable welcome by polder pioneers
Dronten is a municipality of pioneers. Over 60 years ago, these people reclaimed Eastern Flevoland. Today, they are the driving force behind its circularity. Their sustainability and identity are manifest in our design for Dronten's thoroughly renovated Huis van de Gemeente (House of the Municipality).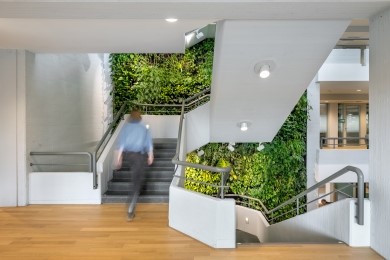 Circular Interior
The aim was to close the cycles of energy and materials. The building is energy neutral. We also gave it a circular interior. We 'cleverly' demolished the existing installation package to encourage reuse and to reduce waste. We gave ceiling slats a second life by using them to finish the public counters.
We used biobased materials, such as biolaminate with ground mussel shells and acoustic panels made from recycled PET bottles. We designed demountable and reusable customized interior elements, avoiding glued joints; QR codes on the materials inform interested parties about their origins.
The interior reflects the polder pioneer character of the people of Dronten. Some 60 years ago, some of them literally put their shoulder to the wheel. Where the Zuiderzee used to be, they built a layered new land. We translated this notion of layeredness into the design, with references to the soil profile and supplemented by contour lines in relation to the Amsterdam Ordinance Datum.
2400

plants in the green wall

150

circularly deployable elements

8255

sqm
A bright atrium with public counters forms the dynamic heart of the offices for the municipal government. The 2,400-plant living wall immediately catches the eye.
The ground floor houses meeting facilities, a restaurant and council chamber. The upper floors provide space for different types of work spaces.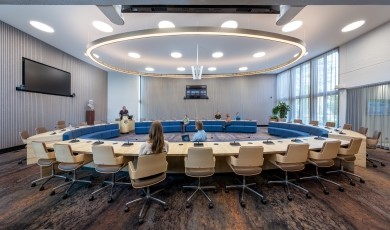 Credits
Client
Gemeente Dronten
Collaboration
Aannemersbedrijf Bramer B.V., Nieman Raadgevende Ingenieurs B.V., Lucassen Bouwconstructies, Van Kruistum Ontwikkeling en Advies B.V.
INBO
Aron Bogers, Frank Zewald, Rodi van der Horst, Pieter Keijzer, Natalia Mylonaki, Joost van den Berg, Joanne van Vreeswijk, Pieter Thieme
Photography
Roos Aldershoff
Completion
2021